IN SADNESS. Our beloved Sire, Booduh, official name: Roann - Vantasia One Point 0, age 13 years 3 months, passed away last night, April 22, 2014. He was a wonderful, loving and caring dog. He produced many excellent puppies, many of them won championship titles. In his early years, he was often in the show ring and had many points toward a championship. He seemed to have missed going to the shows and always loved to be groomed. He always wanted to be vacuumed when he heard it running. He was always anxious to do his job as sire and appeared to know that it was his job to please us. He was still trying the day he died because he wanted to please. He leaves many precious memories which will live on in our hearts. There will never be another Booduh.
A strange thing. Our other dogs always bark during the evening and early morning. At times they seem to have a chorus of howling. Last night and this morning there was complete silence from them as though they were also mourning Booduh's death. ​Booduh, you will live in our hearts forever
Ve-Lin's White German Shepherds
This page is devoted to special dogs who have served us during their life time and have passed on to that doggy land beyond. We begin this page with one of our dearest studs.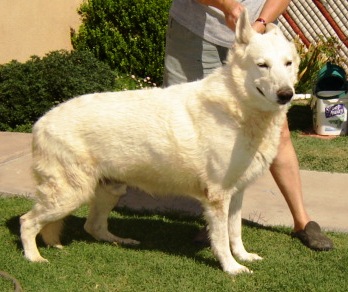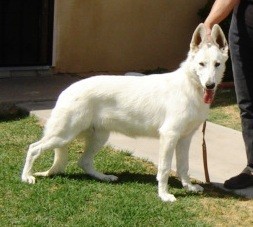 Ve-Lin's Quatros Heidi September 11, 2006 - December 19, 2017. Sadly, our beloved Heidi passed from this life on December 19,2017. She was a great, championship quality White German Shepherd. From puppyhood, she loved to have her back rubbed. She loved to run in her younger years and would run around and around in the yard. She also loved the water and would run and jump into a cattle trough we had for them. She whelped many exemplary puppies. Several earned championship titles and others were service and search and rescue dogs. Her passing was a sad surprise because the day before she was running and barking with the other dogs. We like to think that she passed peacefully in her sleep with her companion, Luke, close by. Heidi, you are missed.
Ve-Lin's Quatros Heidi September 11, 2006 - December 19, 2017.

.